100kW Turbine Installation
NE&C installed a Northwind 100 kW wind turbine at our headquarters. The project was unprecedented as it was the first wind turbine in Middletown and the only commercially owned turbine in Rhode Island. NE&C brought the project from conception to completion from the initial meteorological study through design, permitting, and construction management.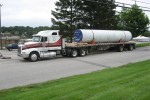 August 2009 – Foundation construction
September
2009 – Tower is constructed
September 22, 2009 Turbine is completed!

All pictures and associated documents on this page are exclusive properties of Northeast Engineers, and shall not be used, reproduced or extracted without written consent and permission from Northeast Engineers. Requests and questions shall be sent to [email protected].